Super 4K w super cenie czyli BML cShot5 4K
Kilka dni temu otrzymaliśmy do to testów najnowszą kamerę sportową z logo mało znanej (jak się okazuje niestety) w Polsce marki BML. Jak zwykle do testu podchodzimy zawieszając poprzeczkę bardzo wysoko zwłaszcza, że to, do czego zobowiązuje się producent jak i nasze oczekiwania są mocno wygórowane.
Kiedy ktoś obiecuje nam rejestrację obrazu w rozdzielczości 4K przy 30 klatkach na sekundę w tym segmencie cenowym to trzeba przyznać, że brzmi to jak połączenie fikcji w fantazją. Musimy jednak przyznać, że w tym przypadku jesteśmy bardzo zaskoczeniu (i to pozytywnie) tym, co zaprezentowała nam testowana kamera.
Zacznijmy więc od początku czyli nasze wrażenia ogólne
Kamera cShot5 4K jest topowym modelem firmy BML.
Umożliwia ona nagrania w rozdzielczościach:
4K 30 fps

2.7K 60 fps

1080p 120 fps

1080p 60 fps

720p 200 fps
Wyposażana została w potężny procesor Ambarella A12 i czujnik firmy Sony IMX078.
Wraz z cShot5 4K otrzymujemy również bardzo bogate wyposażenie dodatkowe. W opakowaniu znajdziemy oczywiście obudowę wodoszczelną, którą bezpiecznie można używać do głębokości 30 metrów, pilota zdalnego sterowania, uchwyt pozwalający zamontowanie kamery na kierownicy rowerowej, mocowania do kasków, adapter umożliwiający montaż na statywach fotograficznych i całą masę najróżniejszych złączek, pasków i innych akcesoriów ułatwiających użytkowanie kamery.
Przyjęty przez BML system montażowy w kamerze cShot5 jest w pełni kompatybilny z system, jaki wykorzystuje GoPro a więc dodatkowo mamy możliwość podpięcia i wykorzystania niemalże wszystkich akcesoriów dodatkowych dedykowanych tym znanym kamerom sportowym. Podobnie waga jak i wielkość kamery odpowiada rozmiarom kamery GoPro 4 czy również popularnemu EKEN H8Pro.
Dołączony do zestawu pilot zdalnego sterowania posiada dwa duże przyciski start / stop za pomocą, których możemy rozpocząć lub zakończyć nagrywanie filmu, możemy również przejść do trybu fotografowania i zdalnie wyzwalać migawkę, dodatkowo na pilocie umieszczone zostały dwie diody komunikacyjne. Sam pilot nie daje nam żadnej dodatkowej funkcjonalności jednak podczas używania kamery w terenie niczego od niego więcej nie oczekujemy.Za pomocą dołączonych pasków pilot bez problemu możemy zamocować sobie na ręce lub np. na kierownicy roweru.
Gdyby jednak okazało się, że jego funkcje nie są dla nas wystarczające to możemy połączyć kamerę z naszym telefonem. Wykorzystamy do tego wbudowany w kamerę moduł Wi-Fi i darmową aplikację, która dostępna jest zarówno na system iOS jak i Androida. Dzięki temu będziemy już mieć już pełną kontrolę nad parametrami pracy naszej kamery łącznie z możliwością podglądu na żywo tego to widzi lub rejestruje nasz BML. Oczywiście zawsze możemy sterować i kontrolować pracę kamery za pośrednictwem trzech przycisków umieszczonych na obudowie. Duże ułatwienie stanowi również wbudowany 2 calowy wyświetlacz LCD zapewniający bardzo dobrą widoczność wszystkich wprowadzanych ustawień. Dodatkowym atutem będzie również możliwość ustawienia menu kamery całkowicie w języku polskim. Na wspomnianym ekranie mamy również możliwość prowadzenia podglądu nagrywanego materiału czy przegląd zarejestrowanych filmów i zdjęć, dodatkowo kamera została wyposażona również w drugi mniejszy ekran pomocniczy zamontowany z przodu kamery.
Oprócz nagrywania filmów kamera cShot 5 4K umożliwia rejestrację nagrań poklatkowych, nagrywanie filmów w pętli i fotografowanie. Maksymalna rozdzielczość wykonywanych zdjęć wynosi 12 megapikseli.
W raz z kamerą otrzymamy również wymienną baterią o pojemności 1050 mAh, która zapewni pracę urządzenia przez około 90 minut.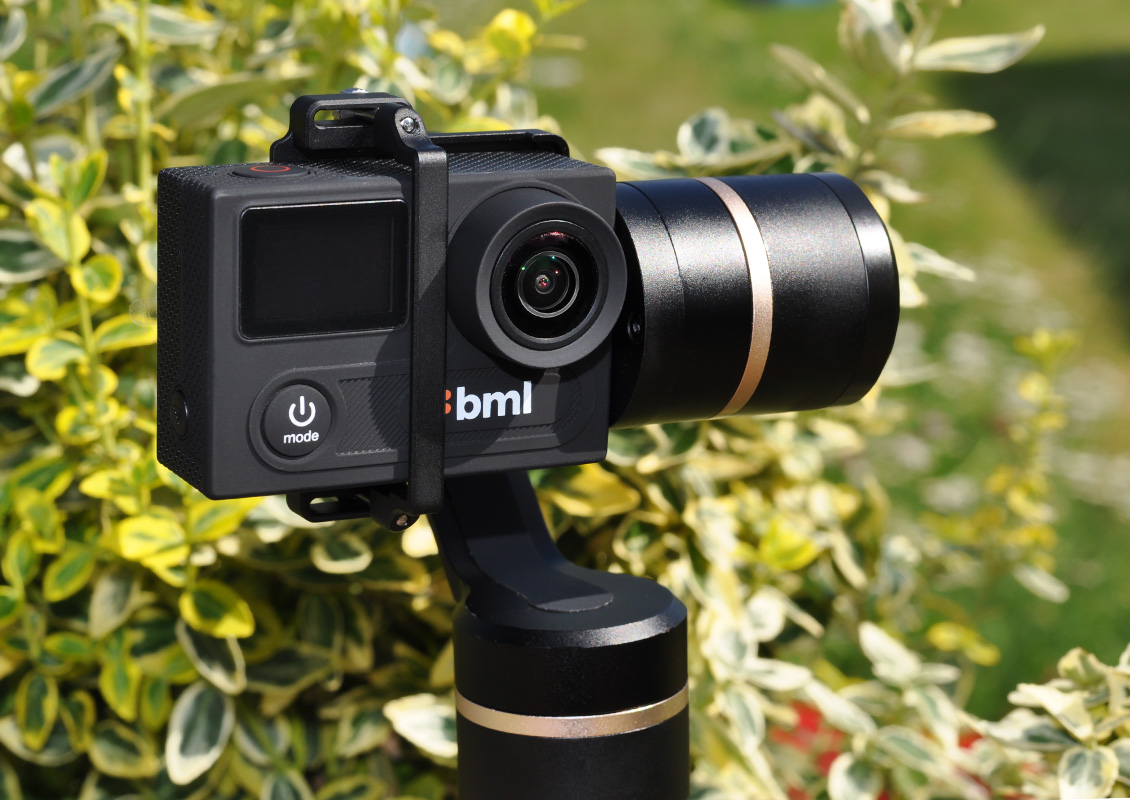 Warunki bojowe czyli test
Kamerę testowaliśmy we wszystkich trybach, rozdzielczościach i w różnych warunkach oświetleniowych (w tych słabych również). Przeszła z nami sporo od zwykłego spaceru, poprzez jazdę na rowerze po nurkowanie.

Podczas testów kamera wielokrotnie nas pozytywnie zaskoczyła, ale największą niespodzianką była doskonała jakość materiału wideo realizowanego w rozdzielczości 4K.
Cały materiał kodowany jest w standardzie H.264/AVC, co zapewnia maksymalną efektywność kompresji.
Doskonała jakość materiału wideo zapewniała nam również jego realizacja w rozdzielczości 2.7K, co przy nagrywaniu z prędkością 60 klatek na sekundę może być świetną alternatywą do produkcji stabilizowanych cyfrowo filmów FullHD.

Z racji tego, że w naszym przypadku zawsze używamy gimbala taka kombinacja nie była konieczna :)

W standardowym trybie FullHD mamy możliwość rejestracji nagrań nawet z prędkością 120 klatek na sekundę, jest to idealny wybór, jeśli będziemy nagrywać szybko poruszające się obiekty lub do tworzenia na etapie post produkcji efektów slowmotion.
Kąt widzenia obiektywu wynosi 170 stopni, co jest wartością uniwersalną w tego typu urządzeniach, przy większych kątach zniekształcenia sferyczne stają się już trudne do zaakceptowania.


Czy wszystko jest zatem idealnie?
O ile dla rozdzielczości 4K kamera spełniła nasze surowe kryteria oceny to nieco gorzej wypadła podczas pracy w trybie FullHD. W przypadku nagrań dobrych warunkach oświetleniowych trudno się nam jest specjalnie czepiać jakości, ale lekkie problemy zaczynają się wraz ze spadkiem poziomu oświetlenia – widać to zwłaszcza w nasyceniu barw. Sytuacja poprawia się po przełączeniu kamery do 4K, które daje nam dobry jakościowo materiał również przy niższych poziomach oświetlenia.
Należy mieć na uwadze, że dla rozdzielczości 4K mamy do dyspozycji 30 klatek na sekundę, co do zwykłego użytkowania w zupełności nam wystarczy, ale przy nagrywaniu dynamicznych scen może negatywnie wpływać, na jakość materiału.
Pamiętajmy jednak, że dokładnie tak samo zachowuje się GoPro HERO5, za którą musielibyśmy zapłacić prawie czterokrotnie więcej – czy warto? Naszym zdaniem zdecydowanie nie. Za te same pieniądze, jakie musielibyśmy zapłacić za GoPro możemy mieć BML cShot5 4K + profesjonalny gimbal do stabilizacji obrazu (np. najnowszy FeiyuTech G5) i jeszcze powinno nam zostać na niezłą kartę pamięci a różnica w realizacji nagrań będzie naprawdę niezauważalna.
Cena: około 629 zł
Plusy:
jakość nagrań 4K

zawartość opakowania (ilość akcesorów w cenie produktu)

system mocowania kompatybilny z GoPro

moduł WiFi + aplikacja do sterowania kamerą
Minusy:
spadek jakości nagrań FullHD, ale tylko dla słabych warunków oświetleniowych

Ocena:
Filmy: 90%

Zdjęcia: 80%

Wyposażenie: 100%

Wykonanie: 90%

Razem: 90%