Muzyka bez kabli

Z szerokiego wachlarzu słuchawek bezprzewodowych działających w oparciu o technologię Bluetooth dostępnych na rynku, zdecydowałem przyjrzeć się nieco bliżej tym, które od samego początku swoim wyglądem zwróciły moją uwagę. Mowa tu o nowej propozycji od Lamax Beat a więc Lamax Elite E-1

Na wstępie muszę zaznaczyć, że nie jestem jakimś przerośniętym audiofilem i melomanem, z purystycznym podejściem do tematu muzyki, nie mniej jednak zawsze była mi ona bliska i ciągle z racji mojej pracy towarzyszy mi w codziennym życiu.


Pierwsze wrażenie
Dość odważnym posunięciem i może nieco prowokacyjnym od strony firmy Lamax, było już nadanie samej nazwy modelu słuchawek: Elite. Pomimo, że sam napis Elite na pudełku, wykonany jest delikatną, nie wielką, schludną czcionką to, mimo to wyraźnie rzuca się w oczy.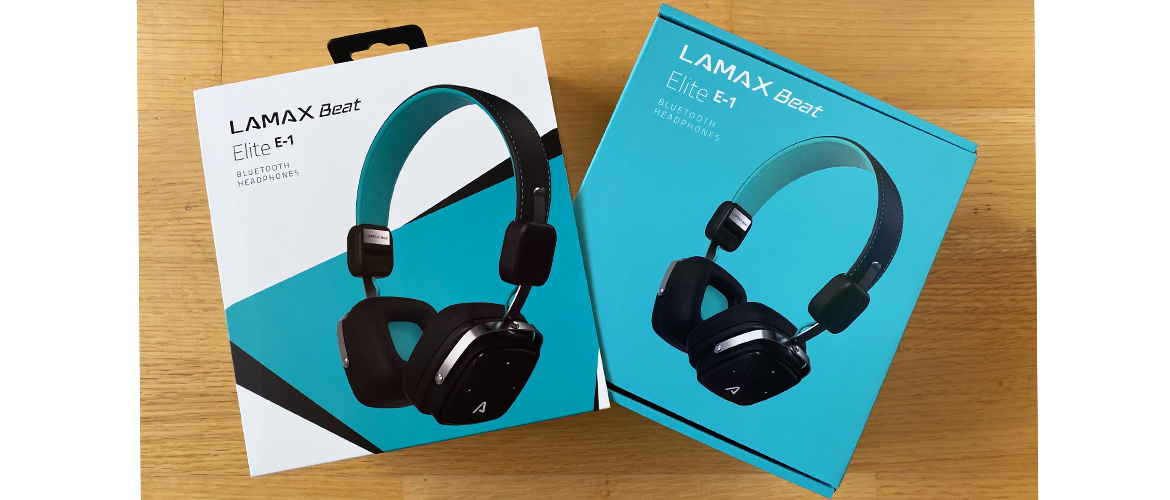 Biorąc pudełko do ręki, od razu daje się zauważyć jego solidne i bardzo estetyczne wykonanie, w charakterystycznym dla Lamax turkusowym kolorze.
Po jego otwarciu, ukazuje się nam bardzo praktyczne, zamykane na zamek etui z twardego tworzywa, wyglądem nieco przypominające te, które stosowane są przy kamerach sportowych.
Zdecydowanie jest to miły dodatek i bardzo praktyczny dodatek, który pozwoli na bezpieczne przechowywanie jak i transportowanie w jednym miejscu: słuchawek, instrucji obsługi, dołączonego wewnątrz kabla do ładowania (microUSB) a także dwustronnego kabla mini jack 3.5mm, który również znajduje się w zestawie. No i w końcu same słuchawki Lamax Elite.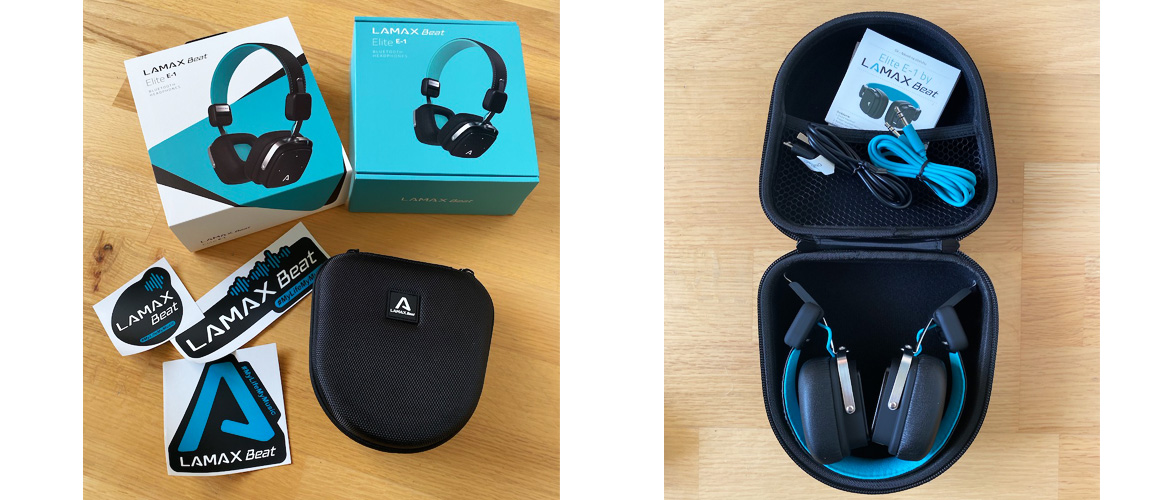 Wygląd i konstrukcja
Zważywszy na fakt, że są to słuchawki nauszne w dodatku Bluetooth, to na pierwszy rzut oka sprawiają wrażenie nieco filigranowych, lecz po wyjęciu ich z etui i finalnym ich rozłożeniu, nabierają solidnego i zarazem przyjemnego charakteru.
Metalowy mostek łączący ze sobą obie słuchawki, został wykończony od strony zewnętrznej ekologiczną czarną skórą, na jego szczycie umieszczono tłoczenie: Elite E-1 by Lamax Beat, brzegi natomiast są obszyte zostały turkusową nicią. Doskonale komponuje się z tym wewnętrzna strona mostka wykończona w charakterystyczny już dla firmy Lamax turkusowy kolor.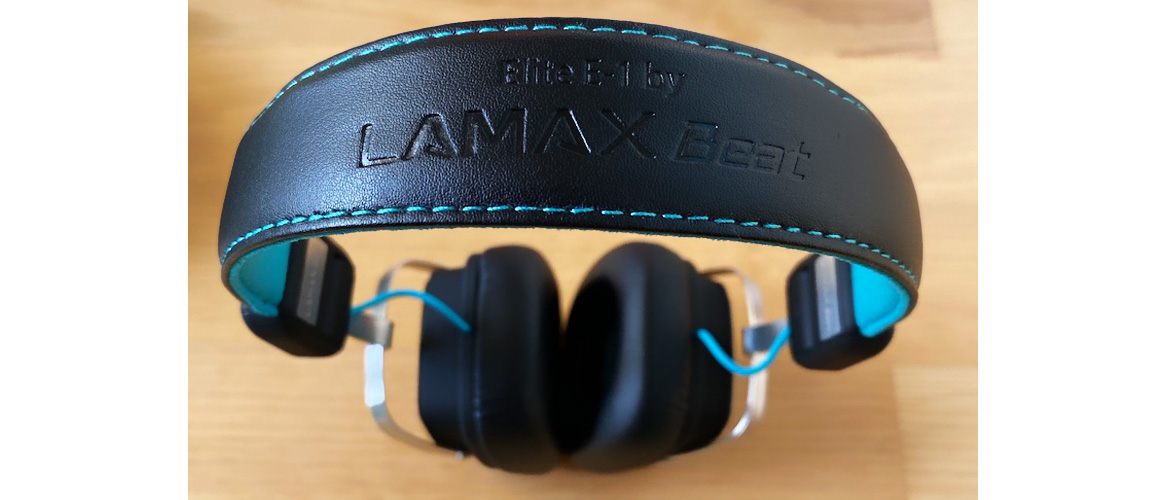 Obudowy słuchawek wykonane zostały z czarnego, matowego i przyjemnego w dotyku plastiku, a kwadratowe panele boczne z czarnego, drapanego aluminium co w połączeniu z metalowymi widełkami łączącymi je z wcześniej opisanym mostkiem, sprawia ogólnie bardzo dobre wrażenie powoli utwierdzające mnie w przekonaniu, że nazwa Lamax Elite jest tutaj jak najbardziej uzasadniona.

Po obu stronach aluminiowych paneli umieszczone zostało białe logo producenta, które biorąc pod uwagę nie wielkie rozmiary, nie rzuca się przesadnie w oczy.
Prawy panel boczny stanowi również funkcję przycisku wielofunkcyjnego, który pracuje w sposób krzyżowy. Obsługa bezprzewodowych słuchawek jest dzięki niemu bardzo wygodna i zarazem intuicyjna. Wspomniany przycisk pracuje dość "twardo" z towarzyszącym jego pracy charakterystycznym kliknięciem, które przy założonych słuchawkach jest wyraźnie słyszalny.
W dolnej krawędzi prawej słuchawki, zostały umieszone również oba złącza w postaci portu microUSB służące do ładowania oraz gniazdo mini Jack, dzięki któremu możemy podłączyć się do urządzenia nieposiadającego Bluetooth.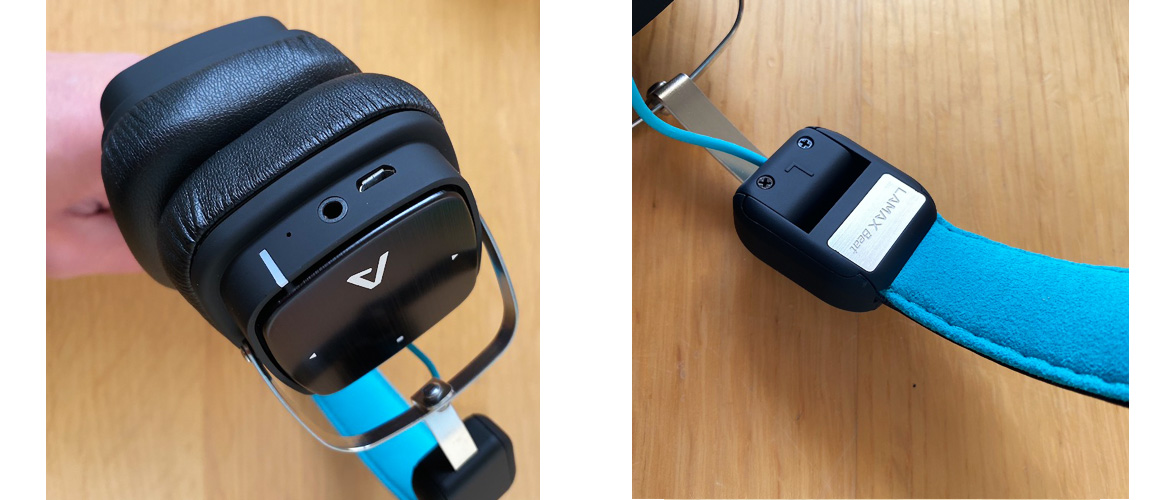 Same muszle od strony wewnętrznej wykończone są miękkim, przyjemnym w dotyku materiałem, który dobrze przylega do ucha dzięki czemu dobrze tłumi dźwięki dobiegające z otoczenia. Stopień nacisku na uszy jest optymalny, słuchawki "leżą" na uszach pewnie i stabilnie. Muszę przyznać, że po mimo spędzonego dłuższego wieczornego posiedzenia na jednej z popularnych platform filmowych, nie odczuwałem żadnego dyskomfortu.


No i tak wałśnie subtelnie przeszliśmy do oceny wydobywającego się dźwięku.


Co w trawie piszczy czyli jak to gra...

Dzięki co weekendowej (i nie tylko) pracy DJ'a, nieskromnie muszę przyznać, że mam dość szeroki i zarazem skrajny zakres gatunków muzycznych, które wprawiają mnie w dobre samopoczucie, myślę że to pozwala mi obiektywnie spojrzeć na naprawdę Design'ersko wykonane słuchawki Lamax Beat Elite E-1.

Zazwyczaj na pierwszy ogień zwykle przy odsłuchach biorę "Englishman In New York" Stinga bowiem utwór ten można powiedzieć leci przez wszystkie częstotliwości, poczynając od głębokiego niskiego, mocnego i dudniącego basu, do przepychu średnich i wysokich tonów.
Po kilkukrotnym przesłuchaniu englishmana (bo przecież trudno jest go nie zapętlić :P ) przyznać muszę, że słuchawki zdają egzamin. Górne partie grają ładnie czysto i wyraźnie oddzielają się od niskich tonów. Bas jest bardzo przyjemny i nie nachalny. Sam wokal jest niemalże krystalicznie czysty a zatem w średnich tonach zdecydowanie Elite E-1 zdobyły moje uznanie.
Idąc dalej, zmieniłem front o 180' i z przyjemnego, melodycznego Stinga przeszedłem do muzyki elektronicznej.

Nie byłem dla słuchawek Lamax łaskawy, bowiem nie mam tu na myśli teraźniejszych popowych utworów a mocne uderzenia z gatunku Drum'n Bass.
Do tej części podszedłem z większym zainteresowaniem, gdyż ten gatunek charakteryzuje bardzo duża rozpiętość w niskich basach jak i zarówno szybkich partiach na wyższych sopranowych częstotliwościach. Ku mojemu zaskoczeniu, słuchawki Lamax Elite E-1, które cenowo plasują się nad wyraz bardzo atrakcyjnie, poradziły sobie bardzo sprawnie...

...chociaż,

przy bardzo szybkich partiach, w których spotykały się mocne, niskie partie melodycznego basu z szybką perkusją na wyższych częstotliwościach, dźwięk jakby nieco tracił na dynamice, powiedzieć że się zlewał to dużo za dużo, nie mniej jednak bardzo wrażliwemu słuchaczowi może zaczynać brakować "szczegółu" każdego wykorzystanego dźwięku (ale tu już odsyłam do takich producentów jak Koss, Bose, Marshall i nie w tym przedziale finansowym :) ).
Kolejnym, z punktu widzenia zwykłego, codziennego, użytkownika tego typu produktów, dobrym zabiegiem było pozostawienie słuchawek Lamax Elite w domu w widocznym, ogólnie dostępnym miejscu, którym jest ....

...moje biurko.

Jak przypuszczałem, przynęta została szybko podjęta przez mojego 9'letniego syna, który pała się wszelkiego rodzaju nowinkami pojawiającymi się w domu. Nad wyraz sprawnie poradził sobie ze "sparowaniem" ich ze swoim smartfonem, dalej komputerem i podpięciem ich do jednej z dwóch wiodących na rynku konsol (jak oni to robią??).

I tu przejmy do jakości wykonania... która jest zdecydowanie przemawiająca na korzyść słuchawek Lamax Elite E-1.
Sprzęt naprawdę dzielnie zniósł ponad 2 tygodniową "gehennę" w pokoju z małoletnim użytkownikiem, niemającym jeszcze dobrze rozwiniętej świadomości materialno - finansowej ;)

Reasumując, słuchawki Lamax Beat Elite E-1 zdecydowanie mogę polecić Tobie, jeżeli potrzebujesz słuchawek pracujących w systemie Bluetooth i których nie będzie trzeba chować przed znajomymi. Elite E-1 w moim mniemaniu potwierdza, że jakość produktów firmy Lamax w stosunku do ceny, wydajności i trwałości z pewnością plasują je na wysokim miejscu na podium. Bardzo ciekawy, schludny, nieco surowy, ale za razem nieco awangardowy design w połączeniu z naprawdę dobrymi właściwościami audio nie dają mi innej możliwości jak wystawienia im oceny innej, jak solidnej 5'ki jak na Elitę przystało.

DJ Frog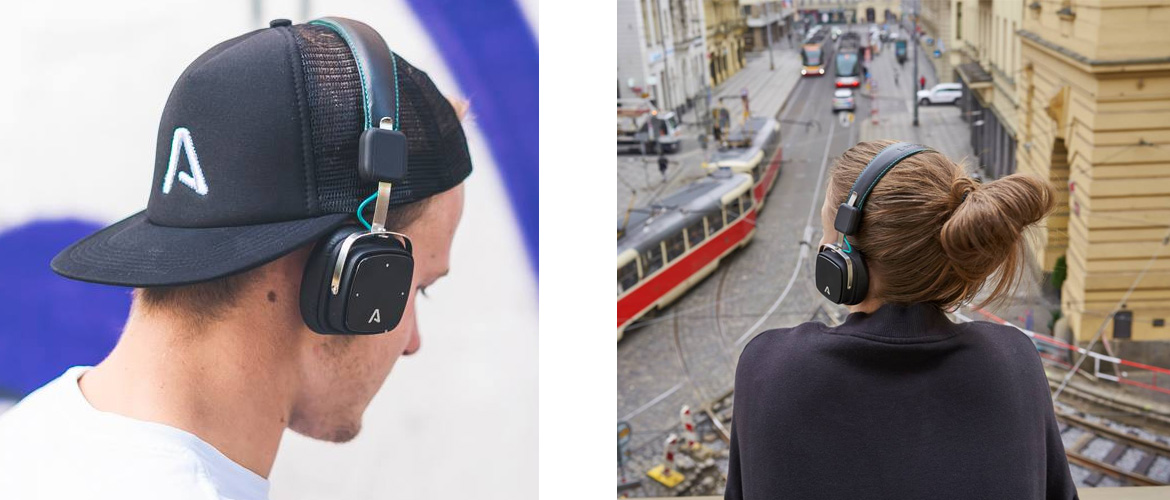 Plusy:
dźwięk

szeroki zakres słyszalnych częstotliwości

gęsty, soczysty ale nie przesadzony bass

wokal (+ dialogi w filmach)

wysokiej jakości zróżnicowane materiały

wytrzymałość

komfort użytkowania

możliwość odsłuchu z kabla mini-jack

czas pracy (około 19-20 godzin na pełnym naładowaniu)

wygląd

stosunek ceny do jakości (jest aż za dobry)
Minusy:
szybkich partiach wysokich i niskich tonów może tracić szczegóły dzwięku

brak kodeka aptX (być może w Elite E-2 producent pokusi się o to rozwiązanie)

mogłem wziąć limitowaną, czarną Edycję ;)
Ocena:
Jakość odsłuchiwanego dźwięku: 95%

Wyposażenie: 100%

Wykonanie: 100%

Razem: 98,3%